Element - Shortcodes: Progress
Thursday, June 26, 2014
12:37 AM
Shortcodes
[intense_progress]
[intense_progress_segment]
Description
Displays a progress bar on the page. Progress bars can have several different progress sections each with a different color and text.
Screenshots

Dialog
To use the dialog:
Select whether to animate the progress bar, the size, and if to show a gradient or not
Press "add data" to add a progress section
Select the color, value, and add applicable text
Continue adding progress sections as needed. Combined values should not exceed 100.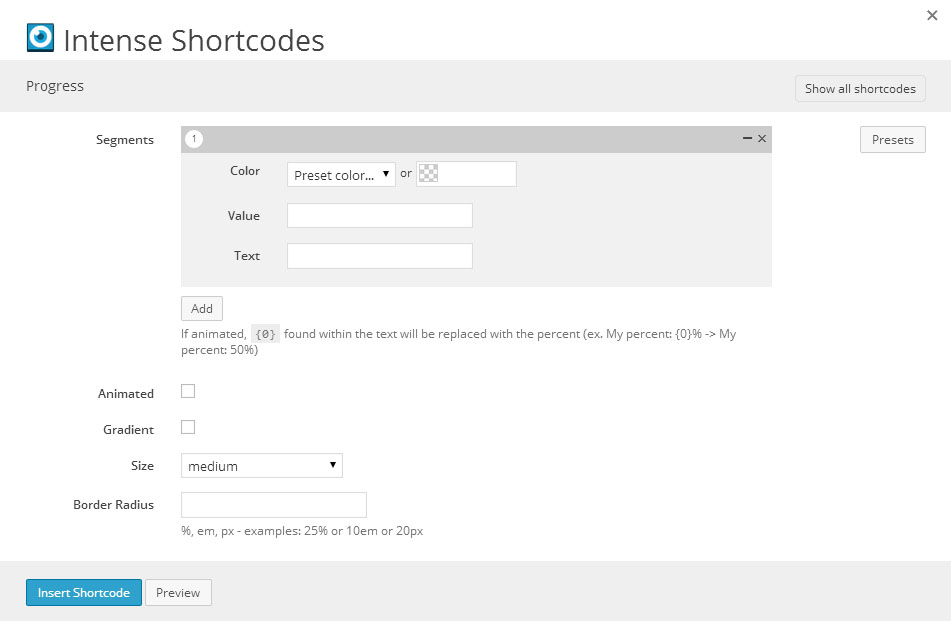 Attributes
intense_progress
Attribute
Type
Dialog Title
Description
Default
Available Values
colors
deprecated
use intense_progress_segment shortcode instead
values
deprecated
use intense_progress_segment shortcode instead
texts
deprecated
use intense_progress_segment shortcode instead
animation
checkbox
Animated
1 = true, 0 = false
animation_speed
text
Animation Tick Speed
amount in milliseconds
35
animate_text
deprecated
use intense_progress_segment shortcode instead
gradient
checkbox
Gradient
1 = true, 0 = false
size
dropdown
Size
medium
mini - mini
small - small
medium - medium
large - large
mega - mega

border_radius
border_radius
Border Radius
%, em, px - examples: 25% or 10em or 20px
rtl
hidden
right-to-left
intense_progress_segment
Attribute
Type
Dialog Title
Description
Default
Available Values
color
color_advanced
Color
option colors - primary, error, info, inverse, muted, success, warning, link

web color - hex, rgb, rgba, hsl, hsla, color name (see wikipedia web colors)
value
text
Value
text
text
Text
If animated, {0} will be replaced with the percent (ex. My percent: {0}% -> My percent: 50%)
Examples
[intense_content_section]
<h2>Colors</h2>
[intense_progress animation="1"] 
[intense_progress_segment color="primary" value="14" text="primary"][/intense_progress_segment] 
[intense_progress_segment color="error" value="14" text="error"][/intense_progress_segment] 
[intense_progress_segment color="info" value="14" text="info"][/intense_progress_segment] 
[intense_progress_segment color="inverse" value="14" text="inverse"][/intense_progress_segment] 
[intense_progress_segment color="muted" value="15" text="muted"][/intense_progress_segment] 
[intense_progress_segment color="success" value="15" text="success"][/intense_progress_segment] 
[intense_progress_segment color="warning" value="14" text="warning"][/intense_progress_segment] 
[/intense_progress]

[intense_progress animation="1"]
[intense_progress_segment color="#999999" value="20" text="Unlimited color options!"][/intense_progress_segment]
[intense_progress_segment color="red" value="2"][/intense_progress_segment]
[intense_progress_segment color="orange" value="2"][/intense_progress_segment]
[intense_progress_segment color="yellow" value="2"][/intense_progress_segment]
[intense_progress_segment color="green" value="2"][/intense_progress_segment]
[intense_progress_segment color="blue" value="2"][/intense_progress_segment]
[intense_progress_segment color="indigo" value="2"][/intense_progress_segment]
[intense_progress_segment color="violet" value="2"][/intense_progress_segment]
[/intense_progress]

[/intense_content_section]

[intense_hr size="large"/]

[intense_content_section]

<h2>Gradient</h2>
[intense_progress animation="1" gradient="1"] 
[intense_progress_segment color="primary" value="14" text="primary"][/intense_progress_segment] 
[intense_progress_segment color="error" value="14" text="error"][/intense_progress_segment] 
[intense_progress_segment color="info" value="14" text="info"][/intense_progress_segment] 
[intense_progress_segment color="inverse" value="14" text="inverse"][/intense_progress_segment] 
[intense_progress_segment color="muted" value="15" text="muted"][/intense_progress_segment] 
[intense_progress_segment color="success" value="15" text="success"][/intense_progress_segment] 
[intense_progress_segment color="warning" value="14" text="warning"][/intense_progress_segment] 
[/intense_progress]
[/intense_content_section]

[intense_hr size="large"/]

[intense_content_section]

<h2>Sizes</h2>
[intense_progress size="mini"] [intense_progress_segment color="primary" value="35" text="mini"][/intense_progress_segment] [/intense_progress]
[intense_progress size="mall"] [intense_progress_segment color="primary" value="90" text="mini"][/intense_progress_segment] [/intense_progress]
[intense_progress size="medium"] [intense_progress_segment color="primary" value="20" text="mini"][/intense_progress_segment] [/intense_progress]
[intense_progress size="large"] [intense_progress_segment color="primary" value="40" text="mini"][/intense_progress_segment] [/intense_progress]
[intense_progress size="mega"] [intense_progress_segment color="primary" value="60" text="mini"][/intense_progress_segment] [/intense_progress] 
[/intense_content_section]

[intense_hr size="large"/]

[intense_content_section]

<h2>Without Animation</h2>
[intense_progress] [intense_progress_segment color="success" value="35" text="Title 1"][/intense_progress_segment] [intense_progress_segment color="warning" value="20" text="Title 2"][/intense_progress_segment] [intense_progress_segment color="primary" value="10" text="Title 3"][/intense_progress_segment] [/intense_progress]
[intense_progress] [intense_progress_segment color="info" value="20"][/intense_progress_segment] [/intense_progress]
[intense_progress] [intense_progress_segment color="success" value="60" text="Your Title: 60%"][/intense_progress_segment] [/intense_progress]
[/intense_content_section]

[intense_hr size="large"/]

[intense_content_section]

<h2>With Animation</h2>
[intense_progress animation="1"] [intense_progress_segment color="success" value="35" text="Title 1"][/intense_progress_segment] [intense_progress_segment color="warning" value="20" text="Title 2"][/intense_progress_segment] [intense_progress_segment color="primary" value="10" text="Title 3"][/intense_progress_segment] [/intense_progress]
[intense_progress animation="1"] [intense_progress_segment color="info" value="20"][/intense_progress_segment] [/intense_progress]
[intense_progress animation="1"] [intense_progress_segment color="success" value="60" text="Your Title: {0}%"][/intense_progress_segment] [/intense_progress]
[/intense_content_section]